To say that my Dad is obsessed with The Godfather is an understatement. I mean, the theme song played during my parents' wedding dance…
My Dad was so obsessed with it, that I began to see this film as a forbidden fruit; something that he could watch, and my brother and I had to go and do something else, as "it wasn't for kids".
There's a lot of things my Dad and I disagree on – I'll treat you like Carlo Rizzi and refrain from discussing family business around you – but one I will talk about is our shared love for The Godfather. In fact, The Godfather has become a family tradition, with it being totally normal to watch or quote it day and night – which sometimes happens.
I first watched The Godfather when I was 10 years old, with my Dad. After years of begging to find out what this mysterious "Godfather" was, when my Mum was out of the house, my Dad decided to let me watch it on the condition that I wouldn't tell her about it. Responsible parenting? Most definitely not. Did I care? Most definitely not. We watched Part I, and I was gripped. I remember loving it, but I was also incredibly confused; I didn't understand the reasoning behind all the violence, or half of what was going on, and I was beyond terrified when Jack Woltz woke up next to his prize horse, Khartoum. I'm still haunted every time I hear those iconic, repetitive screams, but it was ten times worse for a ten-year-old.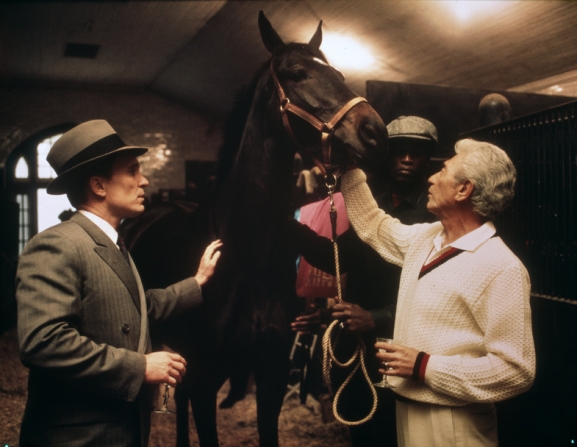 I wasn't very good at hiding the experience from my Mum, though, considering I confessed to her my irrational fear of going to sleep in case I woke up next to a horse's head, and asking her what "sleeping with the fishes" meant. Luckily, I got over that fear, and I have grown to absolutely cherish The Godfather.
The closest I can get to explaining just how much I love this film is by telling you that I was recently asked to be the Godfather to the daughter of one of my closest friends. So, before she was even born, I ordered them this baby grow…
I love the Godfather for so many reasons. Nino Rota's iconic music, Mario Puzo's incredible book, Francis Ford Coppola's world-class directing, and the acting. Oh, don't get me started on the acting. Just reeling off the names makes me want to watch it again (for about the 200th time – which is a genuine estimate as to how many times I've seen the film).
The Godfather himself was played by none other than one of the greatest actors of all time; Marlon Brando. Then, there was Robert Duvall (who I also somehow knew from an early Noughties football film featuring Rangers striker Ally McCoist), James Caan (despite his legendary performance in this film, he's sadly best known to millennials as the Dad from Elf), John Cazale (from Deer Hunter and Dog Day Afternoon), Talia Shire (also known as Adrian from the Rocky series), Diane Keaton from pretty much everything, and Robert De Niro with his incredible performance in Part II.
Then there was Al Pacino. His performance as the iconic Michael Corleone was so amazing, so breathtaking, that I decided right then and there, at age 10, that he was my favourite actor. A dream of mine came true in 2015, when I was accepted to study at the Lee Strasberg Institute in New York. So, I got to study at the home of my favourite actor's acting coach; who just so happened to play Hyman Roth in The Godfather Part II (1974). It's safe to say I was in my element the entire time I was there.
One day, we were told that an ex-student of Lee Strasberg's was going to drop in to host a talk. Who was it? None other than Al Pacino. Getting to hear him speak in-depth and candidly about his process as Michael Corleone will forever be one of the greatest moments of my life. I guess you could say, because of that day; "I believe in America".
I include The Godfather Part II alongside Part I, as I see it more as an extension rather than a sequel. However, I have only seen The Godfather Part III once, and that was more than enough. We do not speak of The Godfather Part III.
Also, a little extra for fans of The Godfather… I've seen a lot of The Godfather parodies over the years, but nothing beats this…
So, there we have it. My Top 10, filled with personal anecdotes, a few puns here and there and occasional off-topic rant. I hope you've enjoyed reading my Top 10! Feel free to comment or Tweet me your top films, or where you'd rank The Godfather. I'd love to hear from you! Subscribe to the website to get alerts for my next posts!